I found
this image and caption at energy.gov
as the image of the week.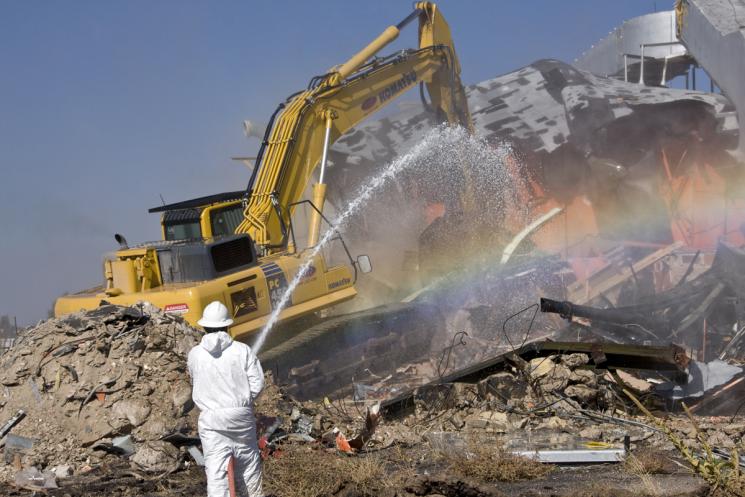 A worker suppresses dust during the final demolition stages of the historic DP West site, located at Los Alamos National Laboratory's (LANL) Technical Area 21. The demolition was funded by the American Recovery and Reinvestment Act (ARRA) and is part of $212 million in ARRA funds the Lab received for environmental remediation. | Photo courtesy of Los Alamos National Laboratory.
Wow. Where do you go with something like this? I mean this is just pure lunacy. This will stimulate the economy?
Also, before you get riled up thinking this is a conspiracy to erase our nuclear history, this practise of demolishing these building has been going on for a while. The history is being preserved. See the "
Bradbury Science Museum
" and
this document on TA-21
from 2004 about the demolition of buildings.
The main page about the cleanup is [here].
What is puzzling is why a photo from this effort was chosen as a picture of the week.
The last building from TA-21 was demolished in December 2010.
On September 14, 2011 the last scoop of waste was excavated from Material Disposal Area B. The spending chart stops at a point over a year ago.
Is the Department of Energy behind the ball or is Los Alamos failing to update its web page?
That's all lunatic dressing. The point is that stimulus money was being spent on activities that Los Alamos was already doing. Not to mention these are historic sites and it just sounds bad that stimulus money was used to demolish historic sites. In addition, this is a government site. The government spent money on the government to stimulate the economy. The project claims to have created 450 jobs, but since it looks like the job is over hasn't the project now lost 450 jobs? Demolition is not a sustainable job market.
Anyways, doesn't it look like the worker is taking a monstrous wizz producing a piss rainbow over the remains of the site that developed weapons that helped us to win "the Cold War?" Is there a subliminal message here about America's nuclear programs?